Top 4 Tips to Staying Safe During a Flood
8/18/2021 (Permalink)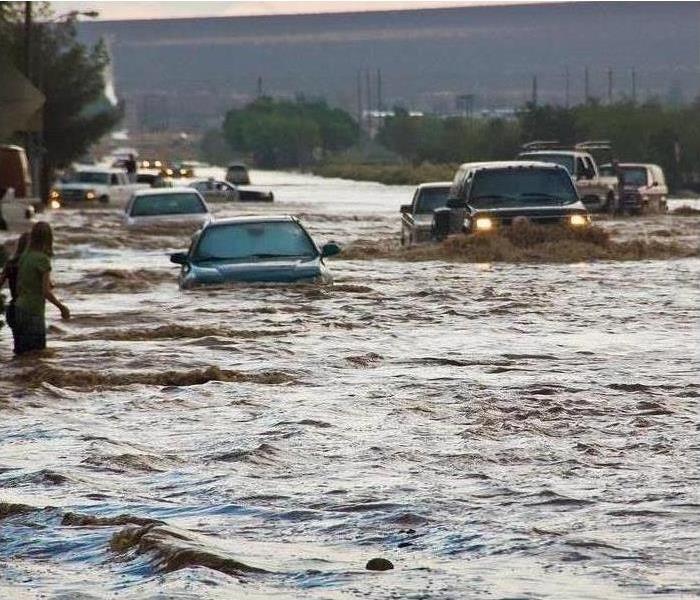 Although it doesn't rain often here in the Golden State, when it does, people aren't always prepared for the worst. One of the worst situations you can find yourself in is being a victim to an unexpected flood that can destroy your car and house in a matter of minutes.
This is why it's important to understand floods and how you can prepare yourself to protect your family and assets.
Even Though there are many types of flooding, these are the two main types you should be aware of:
1) Flash Floods
Flash floods occur when rainfall rises rapidly due to a lack of soil or vegetation which allows torrential rains to flow overland rather than penetrate the ground.
2) River Floods
River flooding is excessive rain that rises slower over a large area and develops from longer-lasting rainstorms, which is common in areas with wetter climate. Since Southern California is an area of dry climate and rocky terrain, it's more prone to flash floods.
Here are some helpful tips to protecting yourself against a flash flood:
Always be aware of your surroundings! Sometimes water can hit you from any direction.
Avoid driving or walking through floodwaters. You never know what's floating around in there.
Move to higher ground as soon as you get a chance.
If you happen to be in your vehicle when the flood hits, stay inside your car. If the water starts to rise, seek protection on the roof.
FUN FACT:
According to Ready, only 6 inches of moving water can literally push you down, and only ONE foot of moving water can sweep up your vehicle.
Enjoy the rain and stay safe!
For more information or help navigating a flood situation, reach out now and we would love to help you!